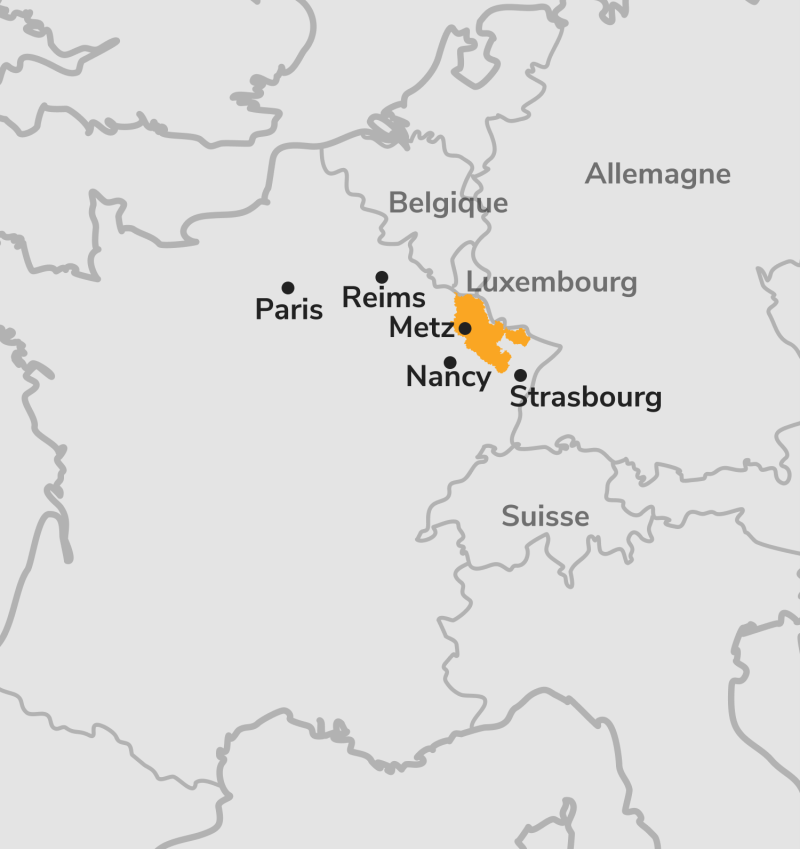 MOSELLE, OPEN TO THE WORLD
 ●  Just a 3-hour drive away from Paris, Frankfurt or Brussels, Moselle enjoys a unique geographical location.
 ●  Thanks to its borders with Germany, Belgium and Luxembourg, the region occupies a privileged position right in the heart of Europe.
 ●  Paris is only 1 hour 25 minutes away by the TGV high-speed train link and nearby international airports connect it directly to the rest of the world (Lorraine, Luxembourg, Strasbourg, Frankfurt-Hahn, Basel-Mulhouse or Paris-Charles de Gaulles airports).
The Moselle,
attractive and dynamic
Moselle knows how to put on events: from the major exhibitions at the Centre Pompidou-Metz and the Château de Malbrouck, to the famous Moselle Christmas experience, not forgetting live sporting events (Moselle Open, FC Metz, Metz Handball, etc.).
This is a cultural and therefore sporting area (187,000 licence holders committed to the 2024 Olympic Games), with numerous entertainment venues and leisure activities (Amnéville Zoo, Le Galaxie concert hall, Center Parcs and SnowWorld, etc.).
Metz, an ideal city offering a good quality of life, perfectly epitomises this dynamic. It has just joined the ranks of the 5 most appealing French cities based on a resident survey (ranking based on the 4th city appeal survey conducted by HelloWork).
Living in Moselle, a region where life is good
The Moselle department also offers the following:
 ● Take advantage of 1,812 hours of sunshine every year
 ● Stroll through the heart of the woodlands making up 38% of this region (two regional natural parks and two UNESCO biosphere reserves)
 ● Discover the 4,810 km of flat routes alongside canals and ponds
 ● Marvel at the wealth of the region's heritage (Metz cathedral, Maginot line fortifications, cities of Vic-sur-Seille and Hombourg-Haut, etc.)
 ● Discover the gastronomic delights presented by some of the finest chefs: Michel Roth (Bocuse d'or 1991), Matthieu Otto (Bocuse d'or France 2017), Loïc Villemin (green star in the Michelin Guide), etc.
 ● Benefit from direct-purchase quality products thanks to the MOSL Quality Agreement (bringing together over 450 producers, craftsmen, restaurant owners, accommodation providers and tourist sites)
Moselle, Always well ranked
Surveys, awards, distinctions, etc. - Moselle and its capital city of Metz are frequent recipients of prestigious awards and rank highly in the national popularity stakes:
 ● Metz in the top 10 of France's most appealing cities (meilleurtaux.com and Météojob)
 ● Metz – the 5th most attractive city from an ecological perspective (Challenges)
 ● 2nd department boasting villages with the best quality of life: Peltre (2nd), Vantoux (9th), Mey (18th) and Jouy-aux-Arches (33rd) (2023 ranking of French towns and villages)
 ● 4th French department with entirely fibre optic coverage
 ● 2 Moselle villages classed among the most beautiful villages in France: Rodemack and Saint-Quirin
Living in Moselle
Find all the information, key figures and useful links by major theme.