HALLOWEEN FESTIVITIES FOR THE WHOLE FAMILY
The Beasts & Witches Festival offers a dense and ultra-diversified program, perfect for an exciting family getaway or holiday.
For young audiences,the Beasts & Witches Festival offers Halloween mask workshops, tales reading, and journeys to the edge of anguish, as at the Train d'Abreschviller.
The biggest and bravest will dare to take part in the adventure of "Les Couloirs de l'Effroi", at the Bitche Citadel, or "l'Antre des Vampires" in the Château de Malbrouck ! Sensitive souls, please refrain !
For a fortnight, all of Moselle will be vibrating to the theme of horror, and Halloween of course.
Haunted castles and forts, animal parks populated by falsely ferocious beasts, candy galore: all the tourist sites are in tune to ensure you enjoy an exceptionally shivering autumn vacation in Moselle.
The Monster of 850
Parc Explor Wendel | Petite-Rosselle
For the all saints' Day vacations, Think moselle !
Whether you're a daredevil or a scaredy-cat...whether you're here for a day only or a few days, get ready to explore fear in all its forms in Moselle!
Our Beasts & Witches stays in Moselle
Nos séjours Bêtes & Sorcières
Découvrez nos 6 séjours thématiques pour vos vacances de la Toussaint en Moselle
Moselle in automn
Just 1h from Strasbourg, 1h20 from Paris and 4h from Lille or Lyon, Moselle is a dream destination for families, offering a host of advantages for a fun-filled autumn vacation.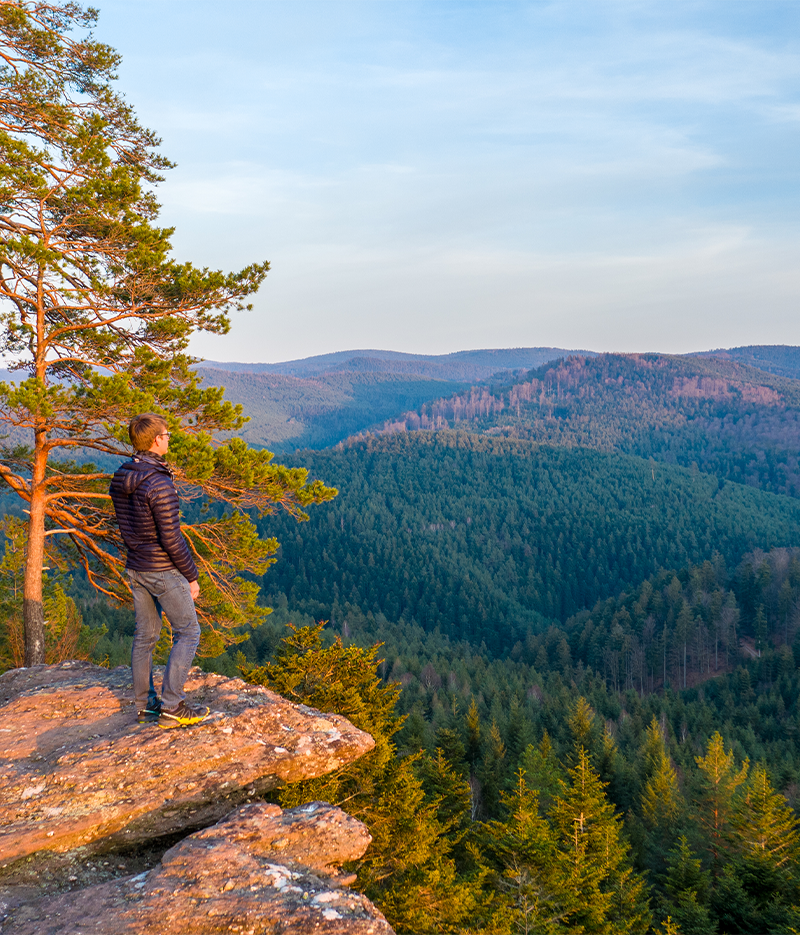 Breathtaking landscapes
Located in eastern France, Moselle will delight nature lovers with its 2 UNESCO biosphere reserves, 2 nature parks, numerous hiking trails (3249km) and 1600km of cycle paths.
Moselle has numerous forest playgrounds and hiking trails throughout its territory, which is ideal for nature breaks on your own or with your family.
---
Recharge your batteries
Calm and relaxed, the Moselle river invites you to contemplate nature, to the tranquil rhythm of its aquatic life. A varied Moselle with rivers, ponds and canals.
River trips, holidays on the water, cycling along the "voie bleue", the natural beauty of water in all its forms and for all wishes.
---
Unlimited leisure
In addition to our special Beasts and Witches events, Moselle is also a great place for leisure activities! On land, on water or in the air, thrills and adrenaline rushes at amusement parks, exotic diving at Center Parcs' Aqua Mundo, a meeting with Mosl -our baby rhinoceros (who is big now !) at Amnéville Zoo, everything is possible...
A handful of original experiences await you !
---
Moselle, land of History
If the autumn weather isn't kind enough to venture into an outdoor activity, don't worry! Moselle is a region which immense heritage recounts some of history's greatest hours: the Maginot Line, medieval castles, fortifications...
---
Nos autres idées de séjours en Moselle
Do you know the origins of Halloween?
The Rommelbootzennaat, stronger than Halloween in Moselle!
The Moselle region is full of traditions... and certainly more stories of beasts and witches of all kinds.
In fact, if we go back a few centuries, we've found a legend that's sure to please!
Once upon a time...October 31st marked the end of the bright season and the beginning of the cold one. During the night of All Saints' Day, the door between the world of the living and the one of the dead remained open.
To protect themselves from wandering souls lurking around their homes, Moselle inhabitants lit candles. They then placed them in hollowed-out beet, on which they drew terrifying faces!
This particular night had a name: the Rommelbootzennaat, or "Night of the grimacing beet". So Moselle has nothing to envy to Halloween, which it has been celebrating in its own way for centuries!
More Beasts and Witches experiences
Festival of events and outings for Halloween in Moselle
Looking for ideas for the Halloween vacations! Moselle invites you to go out and enjoy a thrilling outing or an unforgettable weekend. The "Beasts and Witches" Festival in Moselle offers nearly 100 Halloween activities for young and old! But also ideas for gifts, stays and restaurants!