A romantic getaway near Thionville ?
Thionville and the Three Borders Region offer a relaxed atmosphere and many activities to enjoy as a couple between town and countryside.
Thionville is renowned for its architecture, particularly its Art Nouveau and Art Deco buildings, and for its rich cultural heritage, with its museums and theatres. Nature lovers can also enjoy the region's serene and peaceful environment.
With its many historic sites, its rich culture, its timeless landscapes and its fine food, the Three Borders Region is the perfect place to enjoy memorable romantic moments.
Montenach
ROMANTIC NIGHT IN MOSELLE AT THE DOMAINE DE LA KLAUSS *****
A haven of serenity at the heart of the Three Borders Region, and reminiscent of a feudal castle, this property offers an escape combining simplicity, calm and pleasure.
Stay at the Domaine de la Klauss, situated in Montenach in Moselle, and let the romanticism and magic do their work in a romantic, premium hotel.
Relax in a thoughtfully decorated bedroom, with large-stone walls and unparalleled charm. Enjoy breathtaking views of the Montenach nature reserve from a true cocoon. The promise of timeless moments in the heart of the countryside.
Take a few steps down and there, under incredible stone arches, you'll find the spa. The 800 m2 spa will invite you to enjoy a relaxation experience for two. Unwind in the sensory pool heated to 34°C and the jacuzzi, enjoy the sauna, the hammam, the Finnish shower, relax on the Balinese beds… Moments to unwind and relax await you on this soothing getaway. The ingredients for an unforgettable romantic stay.
If you're looking for weekend ideas for two in Moselle, the Domaine de la Klauss is the perfect place for a romantic night.
Terville
ROMANTIC DINNER AT THE RESTAURANT Avec Amour
Amour with a capital A, a delicious marriage of generosity and passion, Avec Amour will delight your senses.
Celebrate your love over dinner at this restaurant, that even has love in its name. In a contemporary and intimate atmosphere, discover creative and generous cuisine that changes with the seasons. Relax with your partner and enjoy dishes combining tradition and modernity. Choose from meatballs and creamy polenta, veal sweetbreads, morels and cream roasted potato, saffron risotto and scallops…
Fancy a surprise? Give carte blanche to the chef! Over the course of the service, discover dishes that make for a unique experience. Committed to preserving the planet, Avec Amour celebrates local and organic produce from sustainable supply chains. It's the first restaurant in the Grand Est to be awarded the ECOTABLE label.
Basse-Rentgen
ROMANTIc STROLL AT THE CHÂTEAU DE PREISCH
Live the Château life and turn back time as you set out to discover this place steeped in history.
Fall under the spell of a getaway for two at the Château de Preisch, in the north of Lorraine. Wander hand in hand through its salons and bedrooms, admire collections of objects and works of art, visit the chapel… Different eras co-exist in this 12th century Château, which won't fail to amaze you.
Continue your walk beneath the park's two-hundred year old trees. Meet the Hampshire sheep that ensure the upkeep of the property and discover different tree varieties on the botanical trail, with its distinctive Haikus. Entertaining and poetic.
And why not draw out this charming escape with a round of golf? Whether you're an enthusiast or a beginner, challenge your partner on the green! This timeless place will provide you with a wonderful change of scenery.
Spend a weekend for two in Metz
Spend a romantic weekend in Metz for a memorable experience. This beautiful city is rich in history and culture, with many historic and architectural sites awaiting discovery.
Metz city centre is a real gem, with its paved streets, half-timbered houses and bustling squares.
Metz is the perfect destination for a romantic getaway, offering a wonderful combination of history, culture, good food and relaxation.
Discover our suggestion for a romantic stay for two in Metz.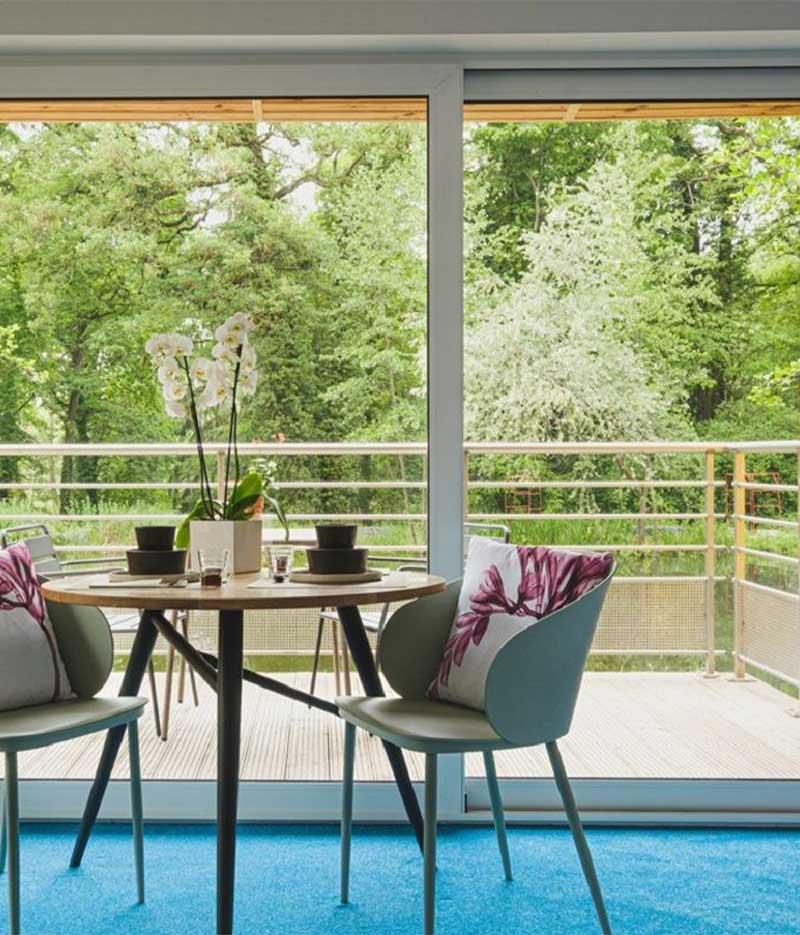 Moulins-Lès-Metz
romantic weekend near metz at the Domaine de la Résidence ****
Get back to nature just a few minutes from Metz city centre. The Domaine's green setting is conducive to relaxation and peace.
Fancy a nature getaway for two near Metz? Located in the midst of forests and lakes, the Domaine de la Résidence invites you to stay in the heart of nature.
Imagine… recharging your batteries with your partner in a lodge on the edge of the forest or next to the water's edge. All around you is nature, inviting you to take your time, enjoy being in the moment, reconnect one on one. Relaxation guaranteed.
And what better way to end the day than with a moment of relaxation? Visit the wellbeing space and reap the benefits of a covered and heated pool, a hammam, a sauna, a sensory shower and even a pulsed water massage bed. Simply unwind.
The perfect place for a romantic weekend.
Saint-Julien-Lès-Metz
ROMANTIC DINNER AT AS RESTAURANT
Surprises await you, both of wonder and delight. This restaurant invites you on a culinary journey.
Fancy a romantic dinner that's all about surprise? The AS restaurant near Metz proposes an innovative concept. The menu is a surprise, meaning you are sure to discover new flavours.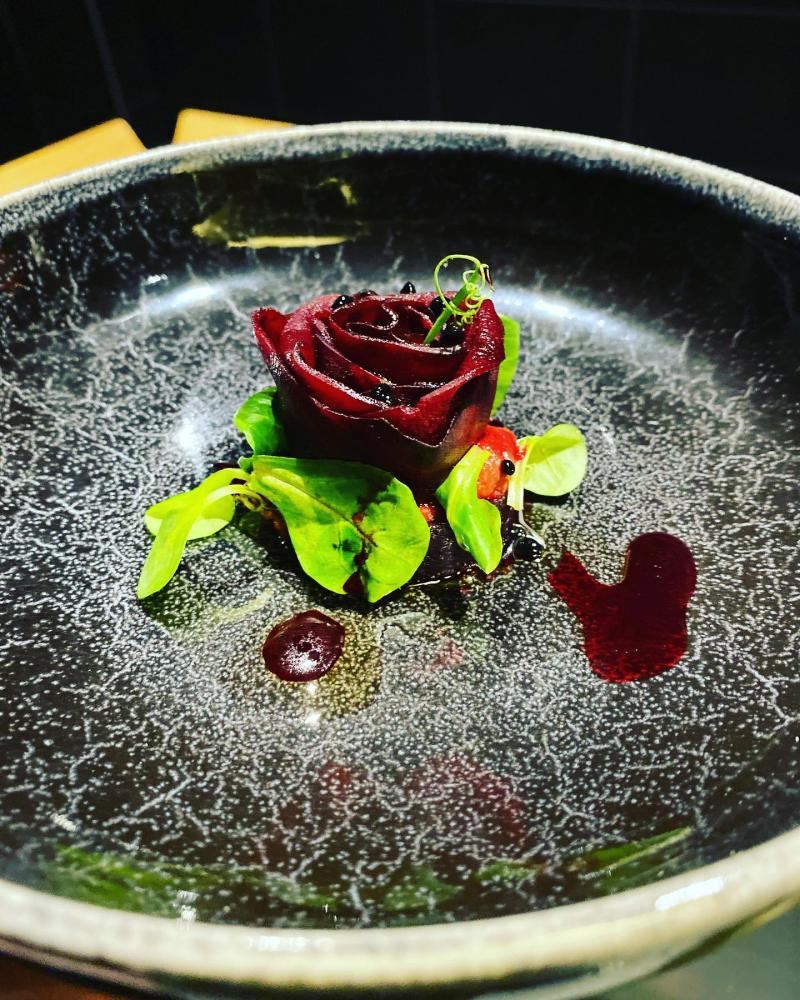 Guided by a creative chef, discover extraordinary cuisine to suit your preferences. The produce and seasons set the inspiration for the dishes, true culinary masterpieces. Let yourself be surprised by the textures, the combinations and the seasonings.
Comfortably seated at the heart of an elegant dining room, enjoy watching the dressing bar, where the finishing touches are made to each dish. All your senses will be awakened. You'll be assured of an exceptional dinner for two making for an unforgettable romantic evening.
Metz
COMPAGNIE DES BATEAUX DE METZ
Climb aboard for an unforgettable and romantic boat trip between city and nature.
Want to discover Metz as a couple from a unique perspective? Let you and your partner be carried by the current.
For a meal or simply an aperitif, climb aboard for an idyllic trip, on a boat trip for two. The Captain will be your guide and present the city of Metz, its history and its biodiversity. And there will be anecdotes in abundance, both surprising and amusing.
Look carefully, you might be lucky enough to see some birds. At the end of this trip, Metz will have shown you all its secrets.
Next, it's time to drop anchor and eat! Enjoy a delicious meal or a selection of charcuterie meats and cheeses, depending on the option chosen. All accompanied by wines from Moselle. Make a toast with your loved one and enjoy being in the moment.
A suggestion for a romantic activity in Metz combining discovery and pleasure for a unique weekend for two.