Lakes - Ponds - Bodies of water
FREYMING MERLEBACH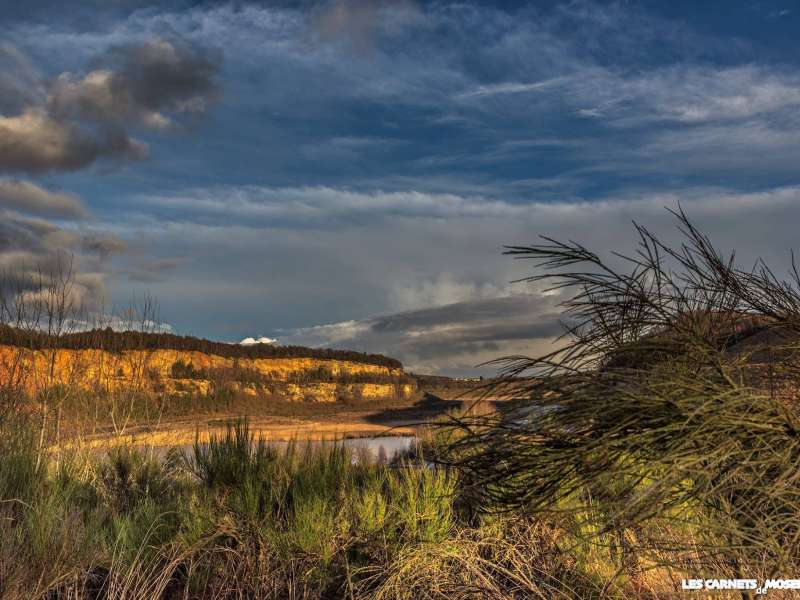 At the Barrois quarry in Freyming-Merlebach, the cliffs, sometimes pink and sometimes yellow, are a canyon-like landscape. Its 80-metre-high viewpoint reveals the ponds that have long since replaced the machines. Indeed, the sandstone was crushed into sand for the backfill of the mining sites. Shaped by Man, claimed by Mother Nature, the quarry has a new face. It is as much a refuge for the brown pelobate, the green toad, the eagle owl and the bats, which nest in the cliffs, as it is a playground for mammals, fish and insects, especially the delicate dragonflies. Wild flowers bloom like drops of colour amidst the vast emerald green expanses.
Pedestrians and cyclists are welcome on various walking routes with several access points and car parks. Access is forbidden to any vehicle with a combustion engine, but access is allowed to electric bikes. Swimming is not permitted for humans or animals in order to preserve the fragile ecosystem.
Practical information
Lakes - Ponds - Bodies of water, Caves - Caverns - Quarries
in

FREYMING MERLEBACH
, a site that has been classified as

Natura 2000
.
Visit conditions
Visits
Tour of exterior only
Visit on your own at all times
Guided tours with advanced booking
Educational tours
Groups accepted on reservation
Coach parking available
Timetable
From
04/12/2023
to
17/12/2023
| | |
| --- | --- |
| Monday | Opened |
| Tuesday | Opened |
| Wednesday | Opened |
| Thursday | Opened |
| Friday | Opened |
| Saturday | Opened |
| Sunday | Opened |