FINE DINING IN MOSELLE'S MICHELIN-STARRED RESTAURANTS
Fully appreciating the cuisine of a territory also means taking the time to settle down at one of its finest tables. This is a good thing since the Moselle has five starred restaurants in the prestigious Michelin Guide:
Prepare your stay in Moselle
ENJOY THE TASTE OF GREEN CUISINE in moselle4s michelin restaurants
Short circuits, organic produce, zero waste, zero plastic, sustainable meat... Moselle's restaurant owners are fully committed to the environment.
Faulquemont
Starting with the starred restaurant Toya. With a view over the impressive Faulquemont golf course, this 'nature' restaurant offers a menu that respects the cycle of the seasons. Its Chef Loïc Villemin works closely with local producers, market gardeners and fishermen.
This commitment to sustainability has been rewarded with a green star in the Michelin Guide and the Ecotable label.
---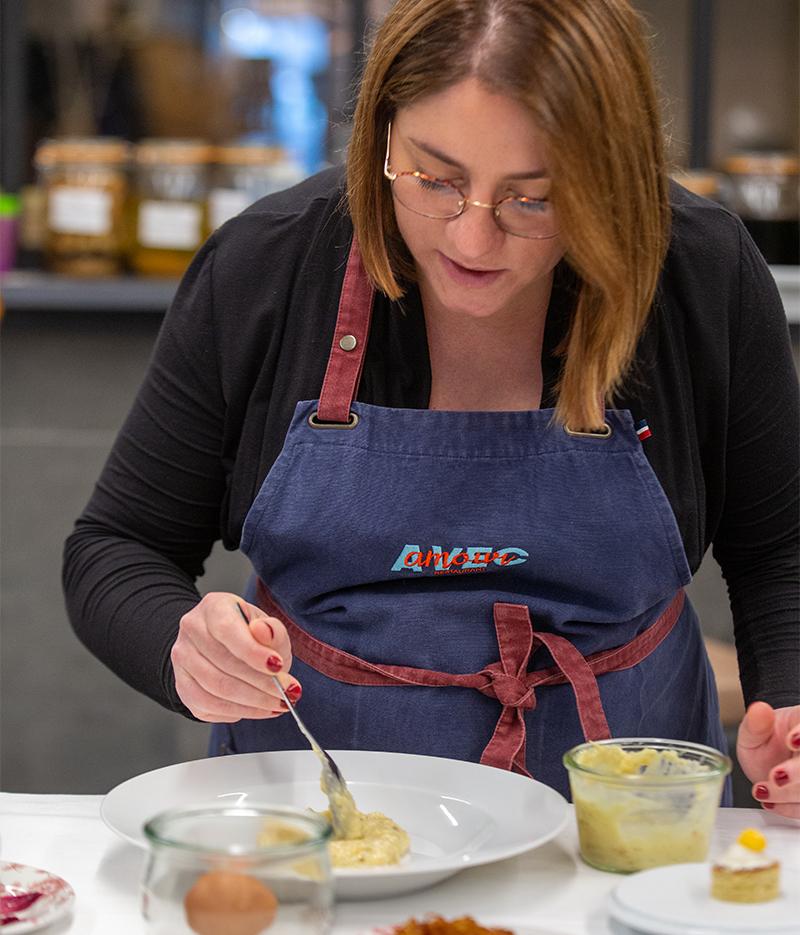 Terville
The same principle, the same determination for Chef Jodie Givert. At the head of restaurant Avec Amour in Terville, she offers a cuisine that is eco-responsible, colourful, creative and delightful.
With its roots firmly planted in the region, the restaurant is also on the prestigious list of French Ecotables.
---
Prepare your stay in Moselle
GETTING BACK TO BASICS : discover other restaurants in lorraine
Saint-Quirin
Dinner at the Hostellerie du Prieuré literally takes you back to the 18th century. In the heart of this former convent, in the magnificent village of St-Quirin, it's hard not to fall for the restaurant's speciality: ballotin de pied de proc, stuffed with foie gras. A great way to rediscover the treasures of a high-quality terroir.
An additional argument (and a big one): the restaurant has been awarded a Bib Gourmand by the Michelin Guide, which testifies of its excellent value for money.
---
Woefling-lès-Sarreguemines
90 kilometres away, a lunch break is a must on a short getaway in the East of Moselle, between Sarreguemines and Bitche. In Woefling-lès-Sarreguemines, in a rustic and welcoming setting, the Restaurant Dimofski - also Bib Gourmand on the Guide Michelin - gives pride of place to contemporary and seasonal cuisine.
Chef Julien Dimofski's work has been highlighted by the famous Gault et Millau guide.
---
Prepare your stay in Moselle
discover moselle'S GASTRONOMY
Looking for quality and authentic products? The finest flavours from Moselle are just around the corner.
As a guarantee of the local origin of the raw materials used, the MOSL Quality accreditation brings together producers with recognised expertise. It's an essential indicator of how delicious food and quality go perfectly together.
Mirabelles, cheeses, charcuterie, Lorraine pork, wines... There's a wide choice to suit everyone.
More than 240 producers are now united under the quality mosl mark
Saint-Avold
It's impossible not to be tempted by Thierry Hommel's cheese tart.
The world's greatest Michelin-starred chefs have given him their stamp of approval, and gourmets come from far and wide to savour this exceptional delicacy.
---
Boulay-Moselle
And what about the Macarons de Boulay?
World-famous and traditionally made with a spoon, they are prepared according to their original recipe using fresh almonds, sugar and egg whites.
---
More ideas of restaurants in Moselle